Love Talk Read
Children's Book Drive and Literacy Program
Celeste Roseberry-McKibbin, Ph.D.
About the Founder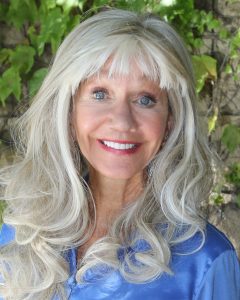 My name is Celeste Roseberry-McKibbin, Ph.D. I am a professor in Sacramento State University's Department of Communication Sciences and Disorders. I also work directly with 3-18 year old students as a speech-language pathologist in the San Juan Unified School District. University teaching and doing hands-on therapy with kids is the best of both worlds!
Love, Talk, Read, to Help Your Child Succeed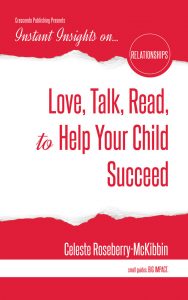 Instant Insights on…Love, Talk, Read, to Help Your Child Succeed is a powerful guide to help you prepare your child for school.
Increasing Fine Motor Skills for Better Writing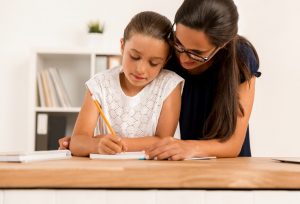 Select the link below for a guide outlining suggestions for improving your child's fine motor skills for better writing.
Presidential Daily Point of Light Award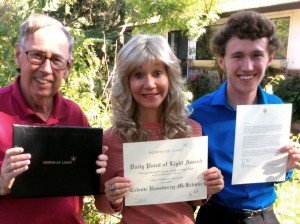 Dr. Roseberry-McKibbin received the national Presidential Daily Point of Light Award for her book drive focusing on building the literacy skills of children in poverty. She and her husband Mike and son Mark work as a family to collect and distribute books to these children.
Join Reading Partners
You can make a positive difference in a child's whole future in just one hour a week. Reading Partners connects volunteers with struggling readers to help them gain confidence and build strong literacy skills. Click here to find out more about how to volunteer. By donating one hour a week of your time, you can change a child's life forever!
Start Your Own Book Drive
Starting your own book collection is a fun, easy, and joyful process. People love to contribute, and your enthusiasm will be contagious! People are so happy to clean out their closets and help build a brighter future for at-risk children. Click here for specific suggestions on how to conduct your own book drive. Contact us to share your personal success story!
For Parents
If parents and other caregivers love, talk to, and read with their children every day, the children will be more successful in school and in life. Click here for information about how to build children's literacy skills by making reading time fun, enjoyable, and effective!
Whoever is generous to the poor gives to God, and He will repay them for their actions. -Proverbs 19:17