Love Talk Read
Children's Book Drive and Literacy Program
Celeste Roseberry-McKibbin, Ph.D.
About the Founder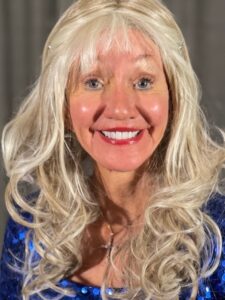 My name is Celeste Roseberry-McKibbin, Ph.D. I am a mother to a wonderful young man with a history of learning disabilities–dyslexia, ADHD, and more. He finished his Master of Philosophy degree at University of Oxford in global health care equity. I'm a speech-language pathology professor in Sacramento State University's Department of Communication Sciences and Disorders. In addition, I work directly with 3-18 year old students as a speech-language pathologist in the San Juan Unified School District.
I've been blessed to sole- or coauthor 17 books. I've made over 700 presentations at the local, state, national, and international levels.
University teaching, writing, speaking, and doing hands-on speech-language therapy with kids is the best of all worlds! I especially have a passion for early intervention that supports improving the speech-language skills of children who are 0-5 years old.
I love donating free books to at-risk children experiencing poverty around the world to boost their literacy skills for a brighter future. I'm a social media influencer who promotes children's literacy around the globe. Follow me on Instagram at @dr.celesteroseberry. Follow me on Tik Tok at @celesteroseberry.
Subscribe
Love Talk Read News
Want to get the latest Love Talk Read updates?
Interested in donating books?
Sign up for the Love Talk Read mailing list and be the first to know when new material comes out that supports your child's speech and language development!
I'll be sending out 4 newsletters a year to update you with the latest information!
Welcome to Love Talk Read!
Presidential Daily Point of Light Award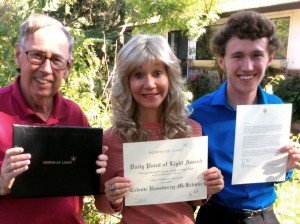 Dr. Roseberry-McKibbin received the national Presidential Daily Point of Light Award for her book drive focusing on building the literacy skills of children in poverty. She and her husband Mike and son Mark work as a family to collect and distribute books to these children.
Boosting Your Child's Speech and Language Development: The Super 70
Looking for ways to improve your child's speech and language development?
Here are 70 fast, easy activities you can do with your child any time, anywhere! These activities fit right into your daily routine!
Start Your Own Book Drive
Starting your own book collection is a fun, easy, and joyful process. People love to contribute, and your enthusiasm will be contagious! People are so happy to clean out their closets and help build a brighter future for at-risk children. Click here for specific suggestions on how to conduct your own book drive. Contact us to share your personal success story!
Your Child's First 100 Words
With minor variations, these are the first 100 words that most children learn. Target these words early in your child's life to build optimal language skills! They might not pronounce all the sounds in the words perfectly—that's OK!
For Parents
If parents and other caregivers love, talk to, and read with their children every day, the children will be more successful in school and in life. Click here for information about how to build children's literacy skills by making reading time fun, enjoyable, and effective!
Whoever is generous to the poor gives to God, and He will repay them for their actions. -Proverbs 19:17