For Parents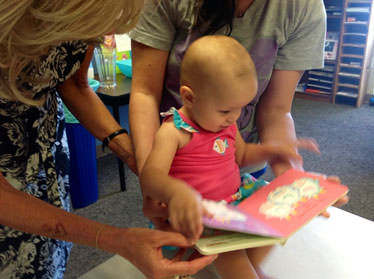 Love your child with time, attention, and affection
Talk to your child a lot.
Read with your child every day. Even babies benefit!
It is all about interaction!
The American Academy of Pediatricians recommends that children from birth to 2 years of age not be exposed to screens of any kind (computers, iPads, phones, etc.). Thus, reading from sturdy print books is important for infants and toddlers.
For children from 2-5 years of age, researchers generally recommend paper books with actual print. Some well-written electronic books may be introduced at this time as long as there is joint media engagement–an adult participating with the child.
For children age 5 and older, there are benefits to both e-books and print books. The best way to read and interact successfully to build your child's literacy skills is to CARE:
Comment "Look at the brown dog eating his food."
Ask Questions "Why do you think the dog is eating?"
Respond "Oh, yes, I think he looks hungry too."
Extend Add words to what your child says. For example:
Child: "Hungry dog eat."
Parent: "Yes, the hungry brown dog is eating and wagging his tail."
Love-Talk-Read
It's all about interaction!