Celeste Roseberry-McKibbin
As a practicing speech-language pathologist and university professor, I began collecting children's books for a Master's student thesis. After my student finished her thesis and graduated, my mother Beverly Wilson Roseberry passed away and I continued collecting children's books in honor of her memory. Mom had taught Sunday school and started a children's library in the Philippines.
My precious son Mark was diagnosed with dyslexia and other written language problems early in life. I saw firsthand the heartbreak and pain for a child who cannot read and write. Thanks to some years of therapy and lots of reading at home, he just finished his Master of Philosophy at University of Oxford, majoring in health care policy. I want a bright future for all children!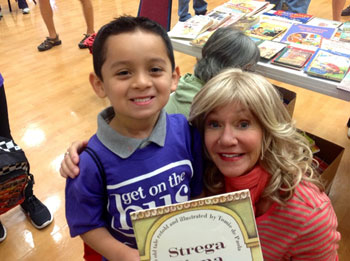 It is my great privilege to share books with children like this boy who has never owned a book before. To promote social justice, access, and equal opportunities for all, we can help children like him build their literacy skills for a more successful future. This is especially urgent as we emerge from a global pandemic that has created such substantial oral and written language delays in children around our planet.

For more information about me, please review my webpage at CSUS. This has additional information about my background and interests.

I was born in southern California and raised in the Philippines from ages 6-17 years. My parents were Baptist missionaries. Early in life, my family and I experienced substantial poverty. Despite this, my mother always found time to read with my sisters and me!