About Love-Talk-Read
We collect new and gently-used children's books to share with at-risk children and families to keep at home. One of the greatest predictors of children's literacy and overall academic success is the number of books they have available to them at home.
Statistics indicate that in some areas, the average middle-class child has 13+ books at home. In some under-resourced areas, there is ONE book for every 300 children. According to the One World Literacy Foundation, the link between academic failure and delinquency, violence, and crime is welded to reading failure. Over 70% of America's prisoners cannot read above a 4th grade level. According to some sources, when building prison cells, some states factor in the number of 3rd graders who are reading below grade level. The number of 3rd graders reading below grade level is factored into the construction of prison cells to potentially house them as adolescents and adults!
In the United States…
We spend $8,000 a year to educate a school-aged child
We spend $40,000-$50,000 a year on each prisoner
Our Goal
Is to help prevent these problems through helping support and build children's literacy skills early in life. We have been blessed to provide over 94,000 free books to children in order to make a positive different in their lives.
Places We Have Donated Books for Children and Youth
Children and families in Samoa, Ecuador, the Philippines. El Salvador, Mexico, the Dominican Republic, Nepal
Shonto Indian Reservation (Arizona)
Migrant camps (Delano, Merced, central California)
Mayor Johnson's Sacramento Reads program
Sacramento Reading Partners (at-risk children)
Sacramento Crisis Nursery (neglected/abused preschoolers)
Sutter Hospital Neonatal Intensive Care Unit
Mustard Seed School for Homeless Children
Boys and Girls Club (after school program)
Roseville After School Program
Jabbergym (special needs children)
San Juan Unified School District Early Head Start
Oak Park Head Start
Elk Grove Children's Development Institute
Sacramento Food Bank and Family Services
New Horizons High School (for at-risk students)
Serna Village (released prisoners reunited with their children)
Sacramento First 5 (0-5 care and literacy program)
Shriner's Children's Hospital (burn and orthopedic patients)
Children's Receiving Home (abused children)
Sacramento City Unified School District Pre-K Program
San Juan Unified School District Pre-K Program
La Familia Counseling Center (services for under-resourced families)
Orangevale Food Bank
Kids First Roseville (for neglected and abused children)
Center for Social Justice (for children of Folsom prisoners)
Sacramento Mutual Housing Authority (for under-resourced families)
MAS Youth Community Center Elk Grove
Only Love preschool (Howe Avenue, Sacramento)
Capitol City Center preschool
Elementary Schools

Whitney
Cottage
Greer
Twin Rivers
Naralto
Ethel Philips
Rosa Parks
Mariposa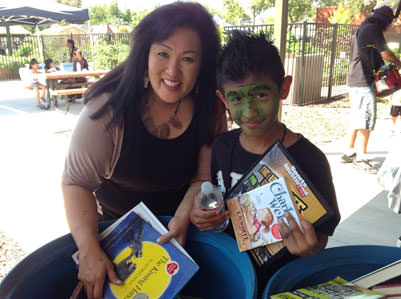 Thank you for helping us support at-risk children through boosting their literacy skills!